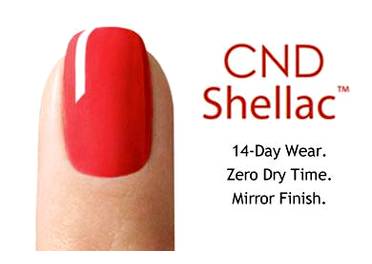 The original Power Polish! (Similar to products such as Gelish, Jessica Geleration and Orly Gelfx, but the only product with no gel content.)
Extended wear, with high gloss finish. Chip free for up to 2 weeks on fingers. Up to 6 weeks on toes depending on growth rate.
The polish is applied like normal nail laquer, after nails are prepared using CND Shellac products
A thin base cost layer is applied and the nails are cured under a UV lamp for 10 seconds. The same process is repeated with two thin layers of your choice of colour coat, after each layer the nails are cured for two minutes under the lamp.
The whole look is then finished with a thin layer of top coat and again cured under the lamp for two minutes.
At this point the polish is completely dry, all that remains to do is a quick wipe over to remove the 'sticky layer'. This is removing the tackiness on the top of the nail that is needed for each layer to adhere to each other. A quick hand massage with some CND hand lotion and a swipe over the cuticles with some nourishing CND Solar oil, to keep cuticles supple, completes the treatment.
No more struggling not to smudge nails when trying to get your car keys out of your handbag!!
Removal of the polish is included in the price.
Try and avoid the urge to 'peel' the polish off yourself as this is when the nail plate gets damaged.