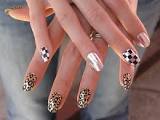 Fun and vibrant patterns, from solid metallics, animal prints to flowers.
Applied to the natural nail using heat, after standard nail preparations have been done. The foil is applied and then customised with specific tools to fit your own nail. It is filed at the free edge to create a seal and a neat finish.
Designed so is instantly dry, with no smudging or chipping.
Lasts up to six weeks on toe nails!
As seen on celebreties such as Rhianna, Jennifer Lopez and Alesha Dixon.